Sa, 12.10.2019, 19:00 Uhr
Radikal Unsichtbar: Concerts, performance, tape release, artist talks.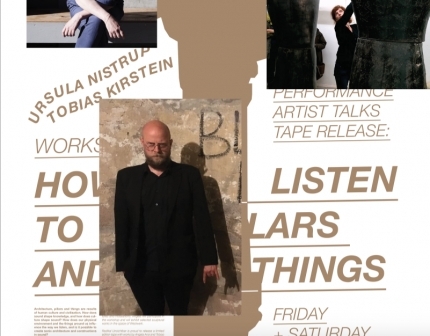 Concert: Ursula Nistrup + Tobias R. Kirstein Performance w. objects and sculptures: Angela Anzi Tape release: Angela Anzi + Tobias R. Kirstein Artist talks: Ursula Nistrup + Angela Anzi + Tobias R. Kirstein The program starts at 19:00. So be there on time! -------------------- Architecture, pillars and things are results of human culture and civilisation. How does sound shape knowledge, and how does culture shape sound? How does our physical environment and the things around us influence the way we listen, and is it possible to create sonic architecture and constructions in sound? Ursula Nistrup describes sound not as a material, but rather as the sculptor's chisel with which material and spaces can be shaped. This way Ursula shapes her porcelain pillars and sculptures. Grounded in a conceptual minimalist tradition her sculptural and sonic works deal with sound in and of itself, but also as a cultural phenomenon investigating how sound creates worlds, intimate imaginings and expanded spaces. Through his conceptual performances and installations Tobias Kirstein explores the act of listening and creating sound as an invisible yet very powerful, sometimes aggressive and territorial act. Hamburg-based Swiss artist Angela Anzi works with sound as an actor in her performative sculptures and installations. Angela will participate in the workshop and will exhibit selected sculptural works in the space of Westwerk. Radikal Unsichtbar is proud to release a limited edition tape with works by Angela Anzi and Tobias Kirstein specially produced for ACT 8. -------------------- Radikal Unsichtbar - ACT 8 is kindly supported by Hamburg - Ministry of Culture and Media and Danish Art Foundation. A speciel thanks to Westwerk and Boris Vogeler for hosting Radikal Unsichtbar and to Gavin Weiss for mastering the tape release. Radikal Unsichtbar is curated by the Danish sound and performance artist Louise Vind Nielsen since 2015.
Eintritt: Frei
Zurück